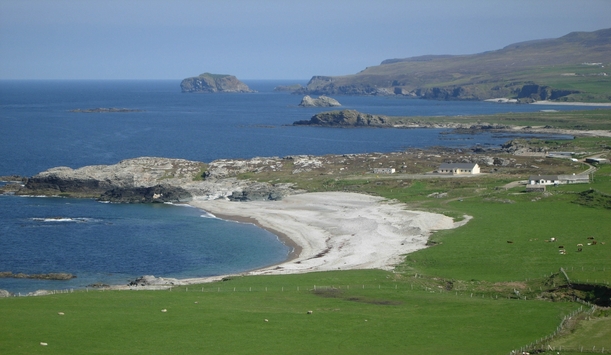 Browns on the Green, Letterkenny
Browns on the Green is situated just outside Letterkenny in the heart of Donegal along the magnificent Northern Headlands section of the Wild Atlantic Way.  The perfect place to stop for a fantastic meal whilst exploring Donegal.
Malin Head lies on the Inishowen Peninsula in County Donegal, at the most northerly tip of the island of Ireland. With the wild Atlantic Ocean for a neighbour, the area is renowned for epic coastal scenery, thriving birdlife and plenty of historical significance.
Banba's Crown
Enter Malin Head along the west side of the Wild Atlantic Way's Inishowen Peninsula and continue to the tip called Banba's Crown (named after a mythical goddess of Ireland). "The Tower", as it's known locally, was built by the British Admiralty in 1805 as part of a string of buildings right around the Irish coast to guard against a possible French invasion.
More modest are the nearby WWII lookout posts. Malin Head was one of 83 coastal locations used to provide a picture of wartime events along the Irish coastline. The coast watchers here had plenty to report on in the early stages of the war as German U-boats attacked convoys in the vicinity.
What lies beneath?
Overall, the turbulent waters off Malin Head have witnessed more than their share of maritime history. The folk at Malin Head Shipwrecks can tell you that there are more ocean liners and German U-boats sunk off this stretch of coast than anywhere else in the world.
Fanad Head
Fanad Head lies on the north coast of County Donegal between Lough Swilly and Mulroy Bay. Its claims to fame include one of the world's most beautiful lighthouses and the famous Flight of the Earls, which took place here in 1607. To reach the headland, travel along Knockalla Coast Road, a route with some seriously stunning panoramas. Along the way, you'll take in views of the Inishowen Peninsula and Atlantic Ocean, and as the road ascends, you'll look down upon Portsalon and Ballymastocker Bay. From this vantage point, it's easy to see why the beach was once voted the second most beautiful in the world. Still, it has more to offer than good looks, as it's also a haven for watersports enthusiasts, walkers and golfers. If a visit to the lighthouse is on your agenda, don't forget to make some time for a leisurely stroll along the adjacent headland, where you'll see awe-inspiring waves and the Wild Atlantic Way's most rugged stretch of coastline. This is one place where you'll certainly want to have your camera ready.